Residential ~
For Decor ... For Collection

We Bring the Artwork to Your Home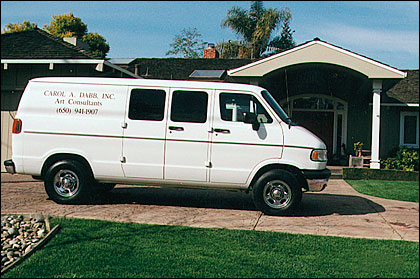 Carol Dabb offers a start to finish service:
Consultation at Your Home
Carol Dabb comes to your home for an on site visit to consult with you and see your design and interiors. She will review your needs and desires and will let you know how she will fill those needs. There are no consultation fees when art purchases are made.
Presentation of Art Works at Your Home
Carol Dabb literally brings the gallery to your home! With a professional art handler and a specially equipped van, Carol Dabb brings a variety of art selections for you to review in place, in your home. Presentation of art in your home offers the easiest and best viewing to help you make the right decisions.
Custom Framing
Carol Dabb works with professional custom frame designers, providing you with the perfect frames to enhance your art choices. We have every resource to find the exact right frame solution.
Delivery
Carol Dabb provides a professional art handler to deliver your valuable art works to your home. The Carol Dabb art van is specially equipped for the safe transport of your art works.
Installation
Carol Dabb provides professional art installation by an experienced art handler and installer. From start to finish, your art acquisition is easy and effortless. Carol Dabb offers a complete service from consultation through installation.
Carol Dabb specializes in meeting individual needs, tastes and desires, whether that be to enhance one's interior design, locate "hard to find" pieces or to add a special artist or artwork to one's collection.